Apple's special September event, where it's widely expected the company will show off new iPhones, is kicking off at 1 p.m. ET/10 a.m. PT today from the Bill Graham Civic Auditorium in San Francisco.
Among the biggest updates expected for the possible new iPhone release are an even sharper camera, faster processor and force-touch technology, allowing users to press parts of the screen the same way they would a button, according to reports.
Apple is remaining tight-lipped about the agenda for the event and in a characteristically coy invitation teased, "Hey Siri, give us a hint."
For those who take the invitation literally, Apple is even having a little fun with Siri. Ask the virtual personal assistant "Siri give me a hint," and she will fire back: "Why don't you check a rumors blog? That's what I do."
And if past Apple events are any indication, there will be at least "one more thing."
Apple WWDC 2015: From Apple Music to iOS 9 and a Smarter Siri
OS X 'El Capitan'
The latest version of Apple's Mac operating system, OS X El Capitan, has a special focus on enhancing performance for power users.
Among the new features are the ability to work across tabs in Mail, pin most visited websites in Safari and work simultaneously in windows positioned side by side.
El Capitan is available to developers today with a public beta launching in July. A full, free upgrade will roll out to users this fall.
iOS 9
Intelligence is the driving force in iOS 9, which will include an even smarter Siri capable of picking up context throughout your day.
"Siri has quietly become incredibly popular," Craig Federighi, Apple's senior vice president of software, told the crowd, adding that the personal assistant fields more than 1 billion requests per week.
In iOS 9, Siri will be able to pull up results for requests such as "Show me photos from Utah last August" and "Remind me to grab my coffee off the roof of my car when I get in."
Siri will also know to pull up music when headphones are plugged in or start an audio book a user has been listening to when they're in their car, among a slew of other context-based features.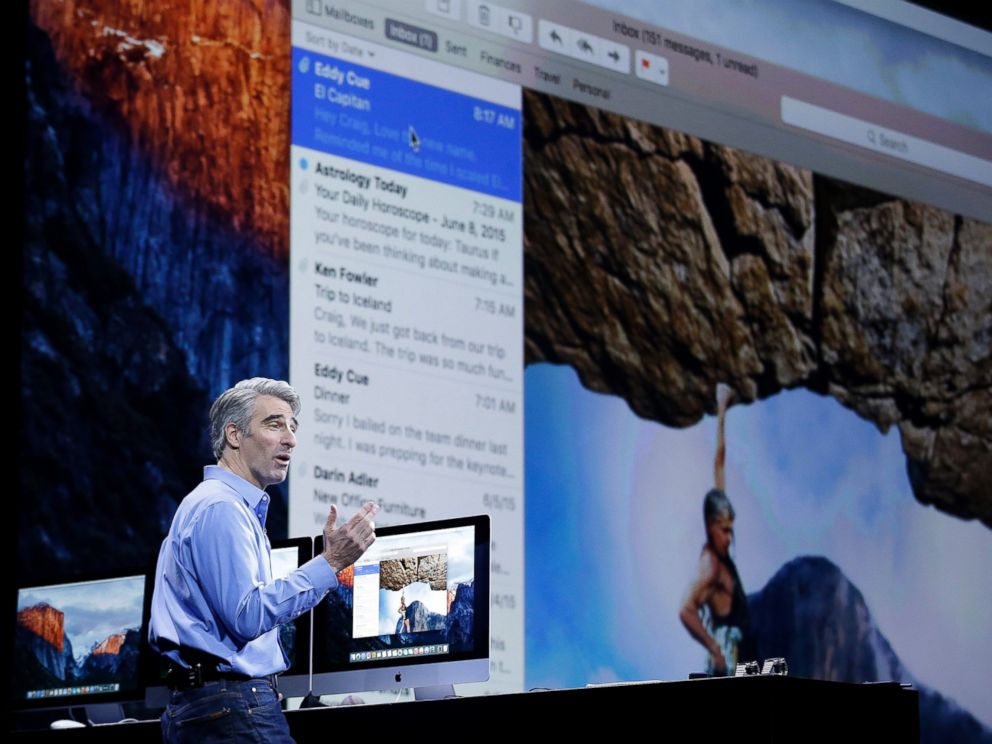 HealthKit, which launched with iOS 8, will include new tracking capabilities for reproductive health, hydration and sun exposure.
When a user performs a search, iOS 9 can find content behind the apps on a device and when a user taps, they're deep linked into the app to make for a seamless user experience.
"We don't mine your email, your photos, contacts in the cloud to learn things about you," Federighi said of the even smarter new operating system. "We honestly just don't want to know."
The added intelligence is done only on the device level and stays within the user's control, he said. Any requests that require a search, such as traffic conditions, won't be tied to a user's Apple ID.
While iOS required as much as 4.6 GB of storage to conduct an over-the-air upgrade, creating headaches for some users, Federighi said iOS 9 will need only 1.3 GB.